Capricorn Full Moon and Male/Female Polarities
by Guru Rattana, Ph.D. - Issue #69, June 14th, 2003
Full Moon in Capricorn
Cancer reveals inner nurturing power and Capricorn expresses outer worldly strength. Together they empower us to manifest our destiny path.
Saturn in Cancer for Two Years
Saturn moved into Cancer June 4 and will stay for just over 2 years. Someone already wrote me, that on that day she noticed a change in her psyche, from the mental focus of Gemini to a caring, feeling attitude of Cancer. Pay attention and watch how this energy affects you. I will write more about this in future issues.
The Sun moves into Cancer Saturday June 21, the day of Summer Solstice, the longest day of the year. The New Moon in Cancer is June 29th, at 11:30am PST. Set your Cancer intentions for the year on this day. I suggest:
Considering how you will nurture yourself and honor your sensitive feelings is a good place to start.
Committing to listening to your feelings and honoring what they have to communicate to you.
Setting a goal to create a cozy space inside your feeling body, where you can feel totally at peace and at home.
That sounds great to me!
Kundalini Yoga meditations focusing on the heart are very appropriate at this time. Click on this link to obtain a copy of my manual Transitions to a Heart-Centered World.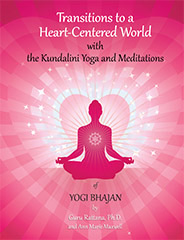 Transitions to a Heart-Centered World by Guru Rattana, Ph.D., is a rich and unique compilation of the core teachings and Kundalini Yoga kriyas and meditations of Yogi Bhajan.
The new Second Edition, revised and updated,is ready to welcome a whole new generation of students to this life-changing technology. It offers powerful and effective techniques to both teacher and student, to empower your lower chakras and open your heart to unconditional love.
Contains literally dozens of meditations to access heart and soul consciousness.
INTERNAL EMPOWERMENT
The internal empowerment of the male and female polarities is a key ingredient, in cultivating a healthy interaction between our mind (male) and emotions (female). As our sensitivity increases this interaction will be one of the most valuable tools of the sensory human. The practice of Kundalini Yoga provides us the basic technology to bring these, heretofore unconscious and uncontrolled energies, into consciousness. With this technology, we can train our minds to cultivate an active awareness of our divine connection, and identity and spiritualize matter through our own unique expressions.
Saturn in Cancer is discussed further in Issue 72.

For news of all the latest astrological events, check out Guru Rattana Blog